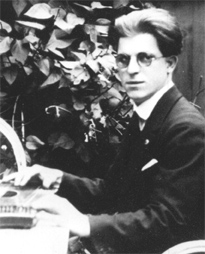 Anton Karas as a teenager playing on the zither © privat
Anton Karas
"Carol has gone completely mad! He wants to bring a zither player over from Vienna to do the music for the film," Alexander Korda said to his Austrian producer friend Karl Hartl, when they met in Claridge's. "Aha, that must be Karas. He was completely mad about him in Vienna." This is how one of the most amazing stories in the history of film music started. At that moment neither Reed nor Karas could possibly foresee that only a few months later a hitherto unknown wine garden musician would suddenly capture the hearts of millions, whip the world into a frenzy with a simple zither score, sell a record number of 100,000 copies in a mere three weeks, play before royalty and the Pope, and replace the Blue Danube Waltz and the Radetzky March as the foremost musical hallmarks of Vienna. It all began with the chance encounter of two men who could not have come from more different worlds: Carol Reed, the much-acclaimed star director from London, a cosmopolitan in Saville Row suits and a fashionable address on the King's Road, Chelsea, was looking for some atmospheric local music for his latest film production, as he could not imagine scoring a gloomy thriller story set in a background of European sordidness with light-hearted traditional waltz music played by a big orchestra.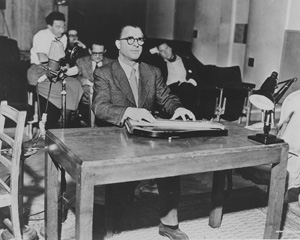 Anton Karas playing the theme over and over again, Carol Reed, and Oscar Hafenrichter in the background © Canal+ Image
He was also desperately trying to find for his mysterious third man a catchy signature tune which would at least faintly correspond with the tune which Graham Greene described Harry was whistling "when he had something on his mind". Anton Karas was an unknown, bespectacled Viennese zither player who made his modest living serenading guests in the popular wine taverns or Heurige of Sievering, an old-world suburb of Vienna at the foot of the Vienna Woods. Anton Karas had grown up in a working-class district of Vienna dreaming of one day becoming no less than a music director. But it remained a dream. When he got his first zither at the age of twelve, a formal musical training was out of the question. Instead, Karas started an apprenticeship as a locksmith and fitter. But, as his talent was obvious, he was admitted to evening courses at the local music college, and started taking lessons with one of the most acclaimed Viennese zither virtuosos, Adolf Scheer. At the age of twenty-two, he felt he had a large enough repertoire to begin making a modest living as an itinerant zither player. Stories differ widely about how Carol Reed and Anton Karas first met. Everyone had his own recollection, even Reed and Karas gave a number of fanciful accounts of how and where they met. Guy Hamilton places the first encounter between Karas and Reed at Karl Hartl's house. Apparently, there was a party, at which Hartl had laid on wine, food, and music by Anton Karas.Trevor Howard claimed that he came to know Karas during his crawls through various wine bars, and then introduced him to Reed. Elizabeth Montagu remembered that Reed wanted to give an exhausted film crew a night off, and that he invited them all to the Martinkovic, a Heurige just opposite the Sievering Studios where Karas happened to be playing. "All of a sudden," she recollected, "Carol hit the table with his fist and shouted, That's it! That's the music for the film.'"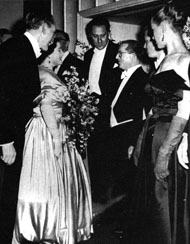 Anton Karas at the reception with Queen Elisabeth of England
© Canal+ Image
Anton Karas' daughter remembers Karl Hartl and his wife Marte Harell inviting the British film crew and some of the leading Austrian film stars of his studio to a wine garden (possibly the same one), following the reception given for Reed by Vienna's Mayor on 18th October 1948. Apparently, the film studio's house musicians who were intended to play traditional Viennese Schrammel music1 for them were engaged to play for Russian film officers. And so Hartl suggested that Anton Karas should come and play for them. And what irony! He was extremely reluctant, because he did not want to lose his nightly wage at his local! Kurt Miksch, one of the Austrian sound technicians on the set, tells a similar story. However, his version stipulates that it was his uncle, the technical director of the Sievering Studios at the time, who invited Karas to come along to the studio to play after a strenuous script meeting. To whose credit the choice of the Anton Karas lies cannot be ascertained any more. Whoever it was, the director's family still treasures Karas' children's zither with which they were presented when THE THIRD MAN hit the box offices.